Testimonials


Mariette Botha:
BAIE GELUK met #VLUG & TERUG.
Die spanningslyn hou mens se aandag die hele tyd gevange
Die vars, hedendaagse spreektaal (caps lock) tussen die jong mense in die verhaal is BAIE OULIK
JY KAN BAIE TROTS voel.
PENdit: Ronel en Bets:
Annalize Hills (Onafhanklike resensent):
"Hierdie boek het my van bladsy een af geboei. Dit is ? liefdesverhaal met heerlike spanningsvolle oomblikke tussenin. Ek het lekker gelees en sal die boek aanbeveel, vir oud en jonk. ? Baie oulike boek."
Audrey Flynn on Goodreads:
There is a great atmosphere in this novel and the narrative is wonderfully paced. The suspense and drama don't let up for a paragraph! The story grips the reader from the outset and I found myself completely engrossed. The writer is not afraid to subvert tropes and avoids the obvious as the storyline takes unexpected twists and turns. The characters are well-drawn and hugely sympathetic.
Your book really took me into the story, and I find that I keep thinking about it.
Leandra (medeskrywer) oor #vlugenterug:
Ek het jou boek gelees as een van die beoordelaars vir die Imbali-wedstryd en ek dreig al lank om jou te kontak. Ek was mal oor jou boek. Dit was uniek en iets wat my altyd sal bybly. Jou karakters was so werklik en realisties en ek wou huil oor jou hoofkarakter. Ek sien jy het onlangs nog 'n boek uitgegee en ek wil vir seker dit lees. Jy het 'n rare talent en jou skryfstem is só absoluut jou eie.
Maretha Maartens:
Maretha Maartens oor #vlugenterug:
Die leser wonder deurgaans wat volgende gaan gebeur.
Wat gebeur met mense wie se beurt dit is? Gaan Munnik en Amina se passie hulle oorweldig? Hoe gaan Amina ná die neerstort van die vliegtuig oorleef? Gaan sy lief word vir Zoop?
Jy het 'n uitsonderlike gawe om spanning te skep en in stand te hou, Elsabé.
Anna en JP:

Amanda en Roelien:

Francien:

Lize en Hanno:

Susan en Magdalena:

Mariette: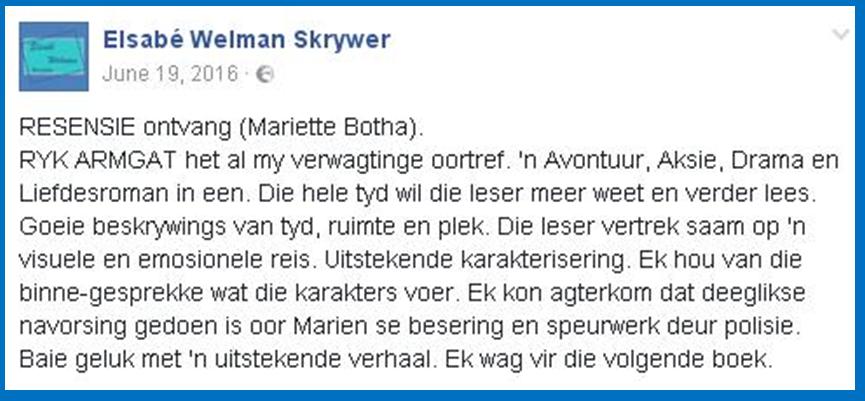 Michelle en Theresa:

Vollie:

Redigeerder en Susan:

Esme:

tarien francien: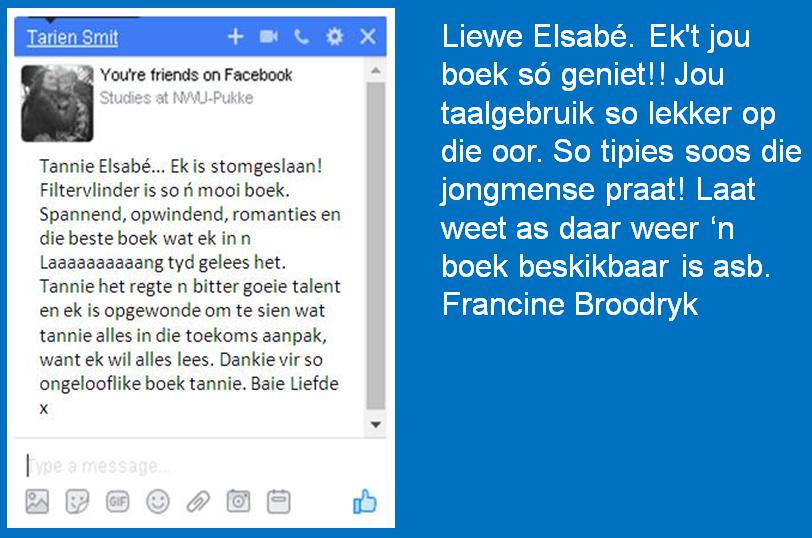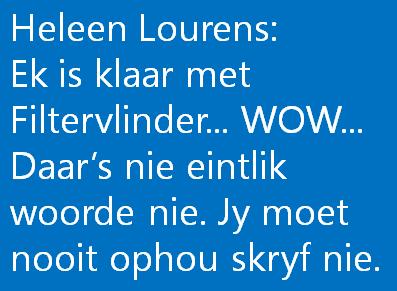 ---