Klonte Sout het die lig gesien, gereed vir jou Kersaankope of jou eie leesbederf gedurende die Kersseisoen.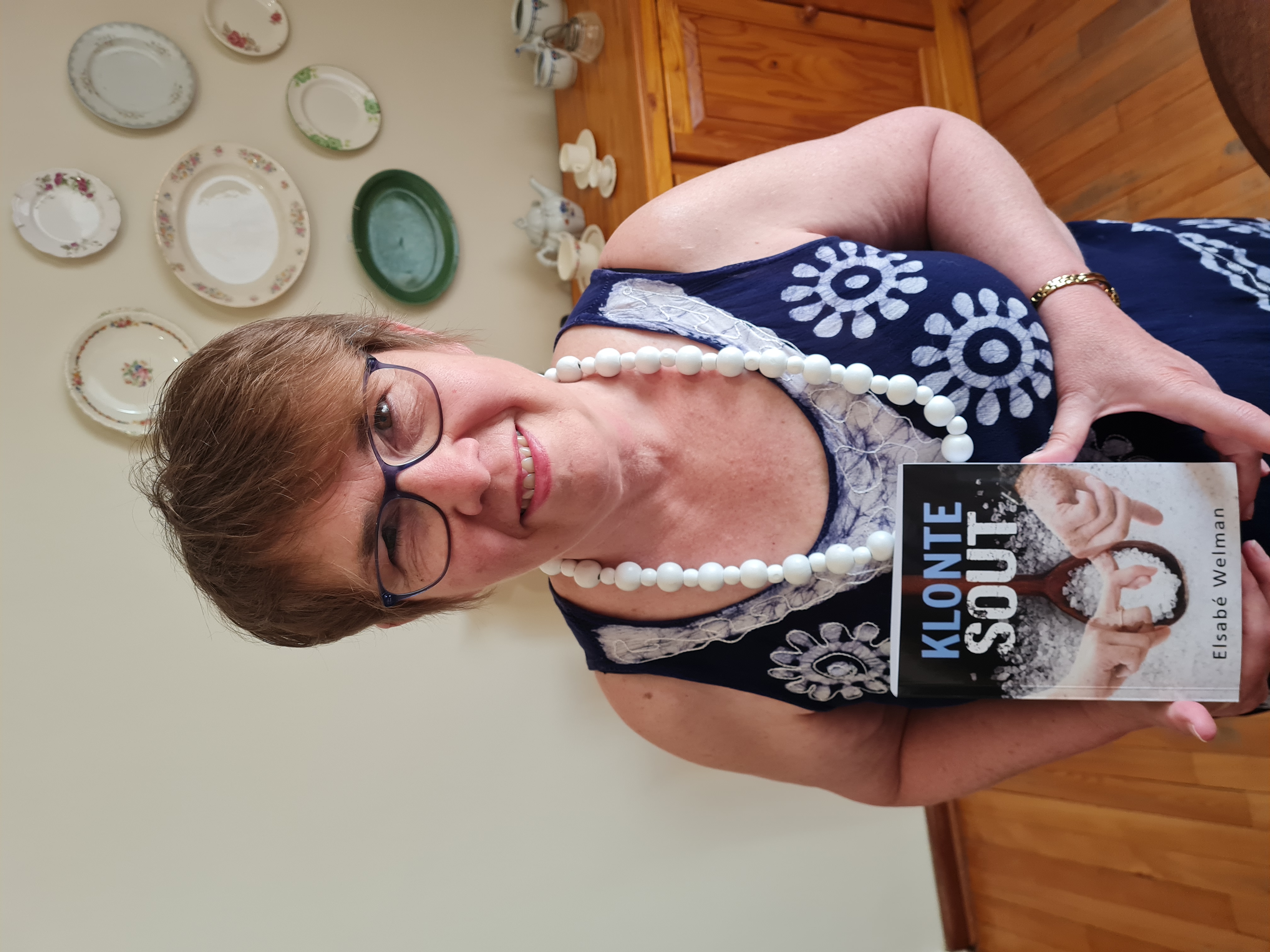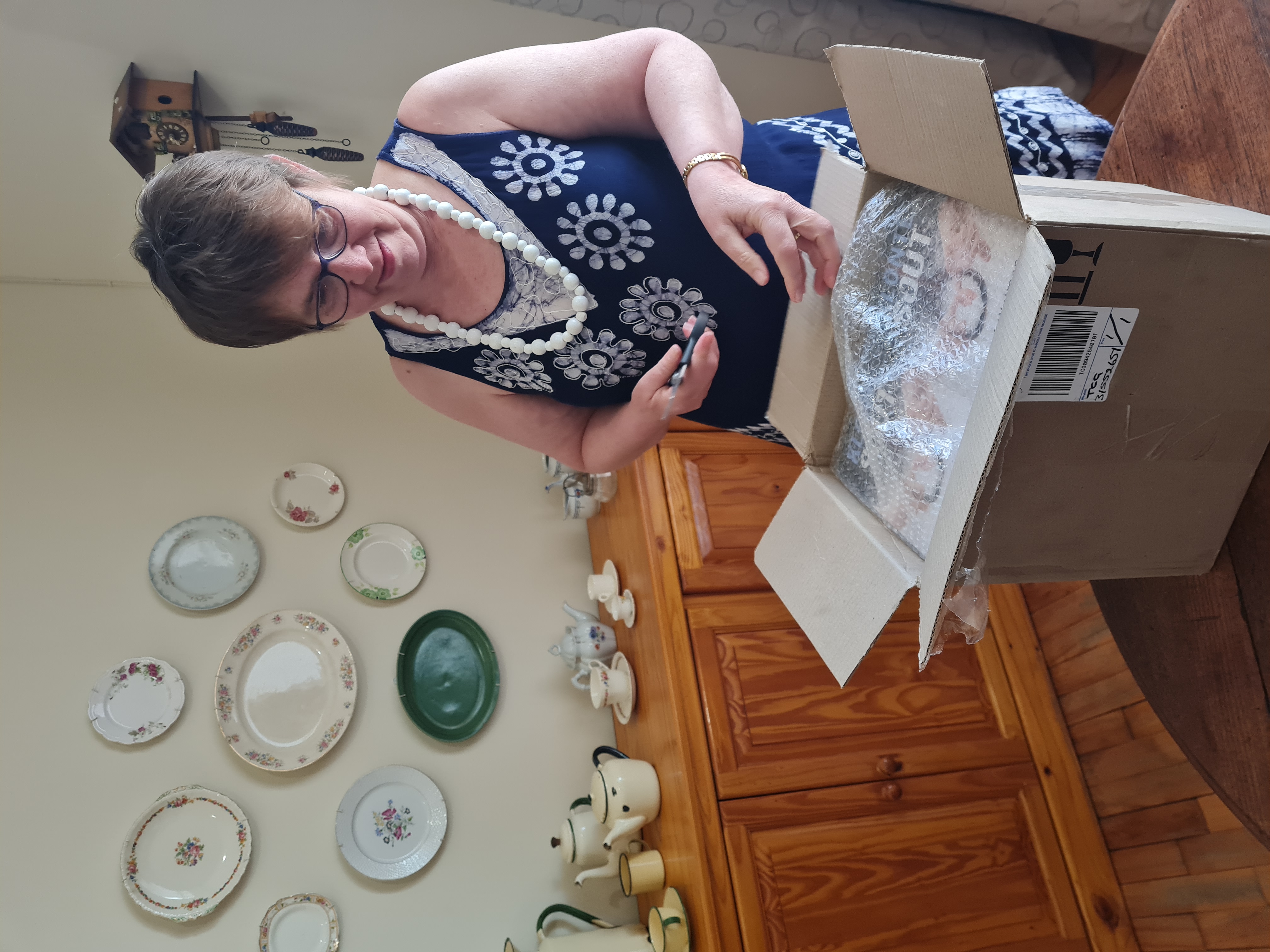 R230 vir sagteband, koerier uitgesluit
R130 vir e-boek
Boekhandelaars: Doen navraag by die skrywer vir spesiale afslag.
Sagteband beskikbaar by Elsabé (kliek HIER) of
Sagteband en e-boek (Mobi en E-Pub) beskikbaar by NS Skrywershuis of
E-boek op Amazon beskikbaar. Kliek HIER.
'n Siektetoestand laat Arno en Orna kinderloos. Sy argeloosheid daaroor verwoes hulle huwelik. Ewald se vrou beswyk aan komplikasies na 'n motorongeluk en laat haar man Ewald en hul baba agter. Wedersydse ondersteuning tussen Orna en Ewald laat die vonke spat. Ewald se niemand-sal-weet-nie word almal-gaan-weet toe Orna aangekla word van moord. Die spanning is ondraaglik en veroorsaak wantroue teen mekaar, veral met verdoemende bewyse op hande. Verskuilde geheime word ontbloot en nie een van die partye weet of hulle die klonte sout kan verteer nie.
BOEKVERSLAG EN ANDER TERUGVOER ONDER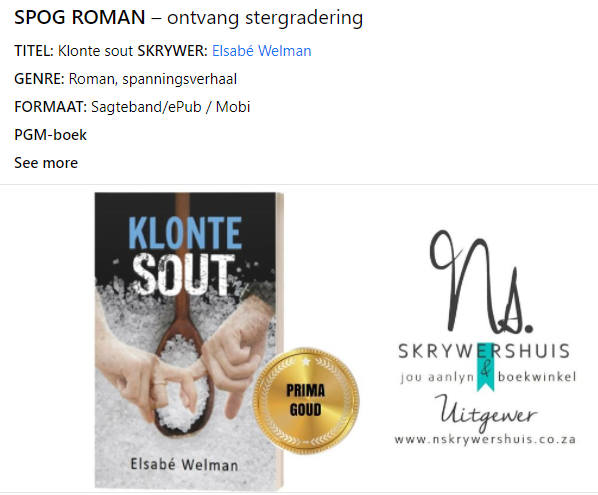 Onafhanklike resensent van Afrikaanse boeke, Annalize Hills, aan die woord:
WAARBORG: PGM Boek
Wie sal kon raai dat 'n roman soveel spanning kan hê? Dit is wat Elsabé Welman vermag in hierdie spanningsroman - Klonte Sout.
Klonte Sout is 'n besonderse verhaal van lief en leed tussen twee mense - dit beloof heelwat intriges en kinkels in die kabels. Opvallend is hoe Elsabé daarin slaag om die spanningslyn met goeie sinspeling te skep. Die leser se simpatie lê deurgaans by Orna, maar word dan verplaas na Ewald wat self moeilike besluite moet neem. Die verhaal is boeiend met 'n sterk verteltrant en die karakterskepping is geloofwaardig en interessant. Die taalgebruik is keurig, beeldryk en die skrywer skryf met deernis en empatie. Die ontknoping word tong in die kies ontplooi en sal die leser vervuld laat.
Dit is 'n goeie spanningsroman met 'n byt en is beslis die moeite werd om te lees.
WAT Sê DIE LESERS?
Marietjie Peach: "Vir die eerste keer in my lewe het ek 'n boek in 'n rekordtyd gelees. Ek kon KLonte Sout eenvoudig nie neersit nie. Vanaf bladsy een het die afwagting my vasgegryp. Hierdie is by verre jou beste een, Elsabé Welman; boeiend, interessant en spannend."
Thys van Zyl: "Ek is reeds op bladsy 183...... Nie sleg vir 'n eerste dag nie! Baie, baie trots op jou Elsabe, uitstaande werk!"
Tannie Sarie van Blerk (80 jr): "Ek kry nie die boek neergesit nie! Waardeer die groter druk. Baie geluk. Money well spent!"
Marietjie Vorster: "Ek het nou soos 'n os en drie beeste geslaap...... Klonte Sout is goed saamgestel...kan indentifiseer met karakters en BOEIEND.....dit is hoekom dit deur die nag was."
Lizelle Kruger: "Wanneer jy spesiale tjoklits gekry het en jy bêre dit diep agter in jou kas... jy gaan haal nou en dan een uit. Dan suig jy hom stadig dat hy nie opraak nie. So is ek oor jou boeke. Ek mag elke dag net 'n klein stukkie lees dat ek nie te vinnig by die einde kom nie. Ek wens jy het al so baie boeke dat ek elke maand 'n nuwe boek van jou lees. Hierdie een is kwaliteit."